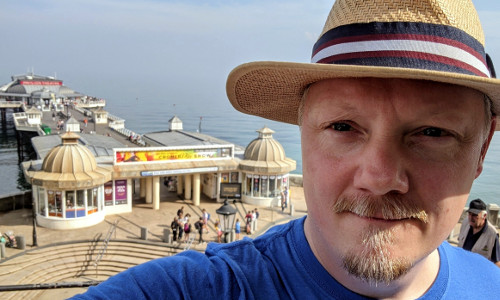 Published: 2021-09-28
Still the virus plagues us but that hasn't stopped things getting back to normal (mostly) in the UK. Confusion still abounds on international travel and I cannot see myself going abroad again until at least next year now. Nevertheless I had a fair bit of holiday that I needed to use and I generally go somewhere for a week in early to mid September, once the schools have gone back. That has tended to be in the UK somewhere anyway (or more specifically Britain).
Back in June I spent a week touring the North of England, plus a couple of days in Edinburgh. Things weren't quite so open back then but enough to find plenty to do in an area of England that I'd never visited before (I had been to Edinburgh before and it was great to go back).
For September I found myself looking at the map of Britain and noticing that there were other large areas I'd never seen before. My first thought was the North West (Cumbria/the Lake District) as I'd mostly stayed in the North East in June (Sheffield, Whitby, Newcastle upon Tyne, Edinburgh and down to Leeds). There didn't seem to be all that much to do in the Lake District, other than hiking and quaint little tearooms. Perhaps one day I will go there to prove that right or wrong. In the end I instead hit upon the idea of both Norfolk and Cornwall/Devon for my break. Those are quite far apart and I only ended up with both because of a sudden lull in the office, so I added a couple of days onto the beginning of my holiday, starting on Thursday the 9th of September 2021 and driving home on Saturday the 18th.
It was an early start, leaving home at 06:31 with 95% battery in the car and a projected range of 298 miles (the official range of my 2020 Kia Soul EV being 280 miles but I regularly exceed this in good weather, by as much as 45 miles). That was plenty to get me to my first destination of Cromer, with the 178 miles travelled seeing me down to 42% and an estimated remaining range of 127 miles (about as much as my previous EV would comfortably do on 100% battery). This really is a great car for grand touring!
Anyway, Cromer. My only real context for the place is the famous quote from the Brigadier in The Three Doctors, "I'm fairly sure that's Cromer", widely believed to be a pun on the Chromakey (aka CSO) effect they were using for the view he was looking at. No Brig to be seen, though I suspected a few of the locals of being Gel guards. I saw the iconic pier and even went to the End of Pier Show that evening. More on that in a bit. After a wander around I visited the rather good but small RNLI Henry Blogg museum down by the beach. I then look a rather longer than expected walk along the coastal path to the lighthouse and back for some chips at the No. 1 fish and chip shop. I had a couple of hours to kill before the end of pier performance so ended up seeking out a Slush Puppy and chilling on the pier in the wonderful weather, as we headed into sunset. The show itself wasn't all that I'd hoped. I had the impression that it would be a bit more variety than it was. Yes, there was some comedy, some magic tricks, a couple of acrobats but 85% was actually song and dance routines, mostly random show tunes. Not my thing at all - it's one thing to follow a narrative and characters but random rejects from Strictly Come Dancing performing even more random songs doesn't do it for me. Still, it passed an evening and made for a change compared to every other evening being spent back in a hotel or on the road. Then it was the first of two nights in the Norwich Cringleford Travelodge.
Day two, Friday the 10th of September, saw me head into Norwich itself. The forecast had rain for most of the day so this was the day for inside things though, as it happens, it was rather pleasant apart from one quick downpour in the late afternoon. Entirely coincidentally I'd chosen a hotel next to a Park and Ride, so the car was left behind and a bus took me into the city. Norwich Castle was the first venue. Sadly the actual castle bit was closed and a section of the attached museum was also out of bounds due to a wedding. It wasn't any cheaper to get in with these restrictions but nonetheless it was somewhat interesting, especially the dioramas of the various landscapes in Norfolk. Then a wander around, popping in quickly to the St. Julian Church (apparently she was a local woman who preached from a cell in there), picked up an A4 Doctor Who picture for £3.50 (a rather nice pencil drawing (a copy of) featuring Tennant, Smith, Capaldi and Whittaker), looked into Athena Games (not buying anything) and then a couple of hours or so at the Museum of Norwich at the Bridewell. As I was leaving the heavens opened and I retreated to the Five Guys for an early dinner. A further scout about the city centre, somewhat hunting dinosaurs (they were doing that differently painted animal sculptures thing that cities sometimes do) had me find the wonderful shop The Television and Movie Store. There were so many things in there I wanted (in stark contrast to most visits of Forbidden Planet) but I limited myself to only a few items, including a Sylvie Funko Pop and a Thirteenth Doctor 'Mr Men' plushie. Then it was back onto the park and ride bus for the hotel.
Saturday the 11th, the third and final day in Norfolk, saw me visit the famous (infamous?) Great Yarmouth. Having checked out of the hotel I headed for the convenient Market Place Car Park. This place had the same GeniePoint 3kW chargers as I'd used in Cromer. Like those there was an odd four hour time limit on their use, not ideal for what should be destination chargers and given their low power. They also charged 30p a kWh, the same I'd pay at motorway services for rapid chargers. I didn't bother this time as I had plenty enough to get me back to the Gridserve Electric Forecourt at Braintree on the way home. The day started well with the best part of three hours at the Time and Tide Museum of Great Yarmouth Life. I really recommend this place, it is mostly concerned with a history of the fishing trade and much of it is in converted fish smoking rooms. It's bigger than you might first think and was well presented and generally fascinating. Sadly the rest of the day was something of a bust. I tracked down several other museums such as the Tollhouse museum, the Elizabethan House, Great Yarmouth Row Houses and the Scroby Sands Offshore Windfarm Visitor Centre. All were closed. This was early afternoon on a Saturday on the second weekend in September. Schools had only recently gone back, the weather was wonderful and this is very much a tourist town. Why were they all closed?! It may have been the tail end of the tourist season but the place was still very busy. I was baffled and more than a bit annoyed. I found a nearby Burger King for a late lunch and to check Google Maps for a new plan. I very nearly visited the Merrivale Model Village but the reviews suggested it was a little run down and I'd had enough disappointment for one day. I quickly sought out a Great Yarmouth Rock making shop that I'd seen a video of on YouTube, as Karen had requested some rock. Even this place let me down as their behind glass kitchen/factory wasn't running but at least they had plenty of stock in the shop part. About 14:30 I returned to my car and drove home, stopping just over midway at the aforementioned Gridserve charger forecourt to top up (at only 24p/kWh - cheaper than those hopelessly slow chargers around Norfolk carparks). I'd never seen the place so busy. There was clearly some kind of event happening with an EV lease company and they were filming interviews and the like. With so many rapid chargers it wasn't an issue for me - there were still plenty of free units. I finally got home 19:15 for an early night in my own bed.
Sunday the 12th was originally meant to be a day of rest before heading down to West Devon but a few days earlier I was told that there was a Doctor Who screening at the BFI and there were a few tickets still going. It's the first I'd heard of it and I jumped at the chance, with Jean and myself both getting tickets (Jean thanks to James Rockliffe giving her his spare ticket as it sold out too quickly for her). I had something of a lie in, leaving home at around 09:45, driving up to my usual car park by Morden Tube Station. Then a Northern Line trip up to Waterloo and a short walk to BFI Southbank for a screening of all seven episodes of the soon to be released Second Doctor story The Evil of the Daleks, freshly animated against the surviving soundtrack. The seven 25 minute episodes were split into two blocks, of four and three episodes, with a Q&A with audiomeister Mark Ayres sandwiched between and a panel discussion with the animation team afterwards. Yet again this animation team have outdone themselves and I definitely recommend you pick up a copy, preferably on Blu-ray. I bade farewell to Jean and walked across the river (via a bridge!) to visit Forbidden Planet on Shaftesbury Avenue. As is normally the case I left having bought nothing. How can they have so much stuff but nothing I want? Is it merely a difference in stock or something about the vibe of the place as compared to Norwich's The Television and Movie Store, the latter of which left me wanting to return? I don't know. It does seem that every time that the London FP has moved to bigger premises that they've lost something each time. Anyway, it was back on the tube (this time from Covent Garden), a return to the York Street car park in Morden and home. I had an early start again the next morning...
Part two of the holiday began as I left home around 06:15 on Monday the 13th of September 2021. I'd allowed myself a good amount of time as rush hour was rapidly approaching and I'd heard bad things about the roads in the West Country. I'd needn't have worried as I arrived a whole hour early at my mid-journey stop of the Haynes International Motor Museum, just north of Yeovil, Somerset. Besides the traffic another reason to get there early was that they had some 7kWh chargers and these had no time restrictions. Getting there at 09:01 (the place opened at 10:00) I had no problems grabbing a charger. Having left home with 100% charge this time (and an estimated range of 313 miles) I had arrived still with 65% battery after 136 miles of driving and with an estimated remaining range of 189 miles (yep, giving me 325 in theory, way up on the 280 miles of official range and I wasn't exactly hypermiling it!) Despite them having about a dozen chargers (and only two being used when I returned to my car) there was little in the way of electric cars in the museum, not even historic ones from the early days. Still it was a fun place to visit although a little odd as part of the site was being used for covid vaccinations. This didn't affect the actual museum in this case, fortunately. So many cars, especially in the red room (where every car is red in an effort to remove colour as a comparison factor when you see so many cars together). This all started as the personal collection of John Haynes, the man behind the famous car maintenance manuals. I didn't end up leaving there until about 13:15, with the car fully charged in my absence. My first thought was to spend the afternoon at the nearby and oddly named Fleet Air Arm Museum. Sadly I discovered, as I put it into Google Maps for directions, that they aren't open on Mondays. Scratching my head I looked around and decided a quick visit to Glastonbury would be fun, as indeed it was. Glastonbury Abbey soaked up just over an hour and a half of my time. They did great cakes (all gluten free) and the one remaining original intact structure of the ancient Abbey, the old kitchen, was quite a sight to behold. Even the ruins were interesting, along with the supposed grave of King Arthur! Then is was an exhausting hike up to the Tor and a visit to an interesting comic shop (seemingly filled with the contents of several Sci-fi fans' lofts) where I picked up a Ghostbusters graphic novel. That seemed appropriate for a place full of weird people and woo-woo. If you want new age crystals, meditation books and tie dyed baggy sheet clothing then this is your place. Then it was on to my hotel for the next five nights, a Travelodge just outside Okehampton in Devon. I finally arrived there at about 19:00 after a grand total of 239 miles that day, taking just over 5 hours of actual driving in all. I was tired!
Tuesday the 14th saw me heading off to Bodmin. No, I wasn't hunting the famous Beast of Bodmin Moor but instead had booked a guided tour of the Bodmin Jail Attraction (a prison built in 1779 that saw its fair share of torture and hangings). Again, fascinating and fun but after the tour I did feel like I wanted to go around again at my own pace, despite the tour being very comprehensive and about two hours long. Perhaps I could have done, had I asked but instead I was up against a time constraint, for I had a timed entry to the Eden Project that afternoon. I arrived just in time for my 12:30 ticket but sadly all three of the charge points were already taken (a woefully small number and I spied several other EVs in my part of the car park that also couldn't get a charge). It was surprisingly busy and my car park (plum) was a good ten minutes walk from the entrance. This place is not cheap at £35 for a standard adult ticket and, I have to say, I was severely underwhelmed by the Eden Project. The domes look incredibly impressive from the outside but inside it is just plants from various parts of the world. And ants, so many ants everywhere! I had hoped to see something about sustainability projects, such as the Eden Geothermal project as recently featured on Fully Charged but there was nothing to be seen anywhere. If you are into different species of plants then go for it, otherwise I don't think it's worth the £35 entry fee. After about two and a half hours of following the one way system around the two biomes, searching and failing to find anything I'd missed, and also failing to find decent refreshments, I headed off. By the time I was back at the car and had worked out what to do next it was about 15:20. Too early to go back to the hotel but Charlestown, a small village with an often filmed port, was nearby. This is actually where they filmed Doctor Who's The Curse of the Black Spot though the ship in question wasn't in the port that day. I had to somewhat run around the Shipwreck Treasure Museum as I didn't arrive there until 15:45 and it closed at 17:00. So many items brought up from the depths, including bits from the Titanic. Then, with the weather still being extremely good for September, I attempted to head down to the beach. Unfortunately the most interesting side was closed off as they were filming something down there. It wasn't a massive film crew, judging by there only being a few vans, so I doubt it was Doctor Who or a film. I gather that Poldark has filmed there more than once, so perhaps that again? I don't know, I couldn't see anything as it was all firmly out of eyeshot (is that a word?) That was very disappointing as otherwise it's a rather small place with not much else to do, besides the museum. It was coming up to 18:00 and time to head back. With a planned trip all of the way out to Land's End the next day I did need to top up and fortunately there was a BP just up the road from the hotel with a rapid charger. When I arrived there was a LEAF just finishing up. As I charged I grabbed a quick bite to eat and a much needed drink from the shop. Just before I was finished another EV turned up to charge to this surprisingly busy site, they're going to have to look at adding at least another charger soon. For those keeping score, by this point I'd driven a total of 352 miles over 8hrs17 since leaving Crawley on the Sunday.
Wednesday the 15th was a jam packed day seeing me drive down to the tip of Cornwall, leaving the hotel at 07:20. On my way I stopped off at Marazion to catch a boat across to the National Trust managed St. Michael's Mount. This is a little island just off the coast that has a small community living on it, including the St Aubyn family who still occupy the castle on the summit (which you can and I did tour). At low tide there's a causeway you can use to walk out to (or back from) the island but the tide was very much heading towards the high water mark when I arrived, so much so that the little island I used to catch my boat out was closed after me as that itself was soon to become taken by the water (there was another jetty they use, a bit further away, once that happens). Yet more inclines to climb once on the island but this wasn't as much effort as Glastonbury Tor! A couple of hours on there was enough to see everything and then it was a boat back (£2.50 again) and a drive to the Geevor Tin Mine. This was something of a highlight, though not without its disappointments. There's a lot to see and, unlike the Eden Project, this place was fairly empty. It was a working tin mine until fairly recently, 1990 I think. Some of the staff were from those final days of the mine just over thirty years ago. I arrived there at 13:04 and didn't leave until they closed at 17:00. Even then I regret not prioritising the Mill as I was out of time for that. Also there was talk of a guided underground tour but either there was a miscommunication or the chaps at the mine entrance just couldn't be bothered as it was ten minutes before the mine closed at 16:00 when I arrived (and it wasn't exactly busy). I did get to walk around an ancient bit of mine on my own but it wasn't the same. I have unfinished business here and it'll be good to return, with friends, a little earlier in the day. Then it was off to Land's End, arriving at 17:24. This was very much another place that had shut down after the schools went back. There are many shops, food stands and attractions (such as a Wallace and Gromit '4D' show, Arthur's Quest (some kind of Crystal Maze type thing featuring the voice of Brian Blessed)) and stuff like that. Everything except a proper sit down restaurant was closed. There were still quite a few people about, you'd have thought they'd at least keep the ice-cream and take away fish and chip type places open. Still, wonderful scenery around there, especially as it approached sunset. I had my photo taken with the famous Land's End sign (free as there was nobody there to charge you for the privilege as would have been the case at peak times, indeed the same with the car park - nobody manning the huts on the way in to take your money just for visiting). I also took advantage of the Gridserve Electric Highway rapid charger that had recently replaced the old Ecotricity one in that carpark. Then, after taking a lot of photos I headed off for the hotel, stopping at a Sainsbury's in Penzance as I passed it. I hadn't eaten all day and wasn't doing much better for drink, so that desperately needed fixing after the failure of Land's End to sell me any food or drink. I finally got back to the hotel at 20:41 and worked out what I was doing the next day.
Thursday the 16th was the considerably closer Plymouth, some 27 miles but it did take 1hr09 to drive. First up was the early opening Mayflower Museum, starting at 9am rather than the more usual 10am opening of most attractions. It's not a particularly large place so only took me about an hour to get around but was interestingly nonetheless. I hadn't realised that the Mayflower passengers were far from the first settlers but they get the publicity nonetheless. Then, just across the harbour, past the Mayflower Steps, is the National Marine Aquarium. I spent a good couple of hours there but despite their claims of the biggest tank in the UK, it didn't seem all that special compared to other aquariums I've visited, admittedly often in different countries. Quite a large school party were in attendance forcing me to work around them but it's a big enough place that I mostly managed it, despite the one way system making that trickier than it ought to have been. Time was starting to get away from me again as I had booked a tour of the Royal Citadel and had also promised myself lunch at Five Guys. They were especially slow to cook my meal but I did just make it to the Citadel in time, after dropping off my backpack at the car (we couldn't take bags around the Citadel). That two hour toured started at 14:00 and we were told in advance that we needed photo ID that matched our bookings and could not take our phones in - those were left with the sentries. Yes, this place is guarded as it is still a working military base. English Heritage have a joint responsibility for the buildings and walls (some dating back to the 1660s) but tours are strictly limited. Mostly we walked around the top of the walls, looked around the garrison church, heard the history of the place and looked at a fair few different types of cannon. We certainly were not allowed in any of the other buildings, for obvious reasons. Given the overcast weather around lunchtime I was worried I'd get wet but actually the clouds vanished and I instead got a little sunburnt. Not having my bag with me meant I didn't have any suncream or even a hat. It wasn't too bad, fortunately. That tour felt like quite a privilege so I am glad I got the chance to do it but I was also getting rather dehydrated after all that time in the sun. I wandered back into the town centre and visited a couple of comic book shops I saw earlier, before they opened. The wonderfully named The Final Frontier failed to tempt me but The Hive Mind had a whole load of different A4 framed artwork for sale, each £12.40. I ended up buying a Boba Fett and a Dalek one but could easily have gone for more. Thirst then prompted me to buy a couple of apple juice drinks for £1 at Poundland and I headed down to the Hoe. That's somewhere I wasn't aware of until I saw it from the walls of the Royal Citadel. It's a parkland with various monuments to the likes of Sir Frances Drake and the RAF, plus has a recreation lighthouse called Smeaton's Tower. There's also the Tinside Lido overlooking the sea (still closed until at least 2022). I had my apple juice whilst enjoying a much needed sit down in the wonderful weather and then walked along the seafront road for a bit before my promise to myself of a Slush Puppy (or similar) was finally kept, thanks to The Coffee Shack. I sat at one of their tables, looking out into the sea (and watching various people going for a dip in what must still have been a slight chilly ocean). By the time I'd gotten back to my car it was about 18:30 and I could be assured the worst of the rush hour was over. My car had been siting on a charger in the Western Approach car park for ten hours which was much more than enough to fill it up (I took 31kWh according to Podpoint, so just under half a battery). I got back to the hotel with 91% (it took only 55 minutes on the way back) and had overall driven 602 miles in 15hrs17 since leaving home.
Friday the 17th was my last full day of holiday before I started to make my way home and saw me visit the world famous Torquay. Sadly I didn't spot any herds of wildebeest or the hanging gardens of Babylon but nonetheless this turned out to be something of a highlight day. I left the hotel around 08:40 and drove the 45 miles, in about 1.5 hours, to my first stop of Kents Cavern. There I had a 10:30 guided tour of the historic caves which lay claim to the earliest fossil of modern humans in northwestern Europe. It was another very good tour (and a pretty good hot chocolate from their cafe, that I needed to drink a little too quickly before the tour started!) After a quick walk down to Anstey's Cove (seemed rude not to, as I was paying to use the car park named after it) and a much tougher walk back up (there was a rather popular cafe down there but not much else), I headed off to Babbacombe Model Village. After not bothering with the model village in Great Yarmouth six days earlier I decided this one sounded a lot better. I don't know if it was but I can say I was really impressed with Babbacombe Model Village. It's not just model buildings but lots of figures, often doing stupid things. There's a great sense of humour to it all and so many things to spot, such as two Thirteenth Doctors (one with TARDIS, on Queen's Square from Eastenders), a Third Doctor, a Fourth Doctor, Mulder and Scully, the Beetles crossing a road, the Italian Job, the superhero mansion, etc. They even had a couple of Babylon 5 characters and so many puns for fake company names. The whole thing was brilliant fun and I'm sure I missed a lot of references, it really is the sort of place to go with friends to help maximise the discoveries. That was another couple of hours and it could well have stretched to three with others. Torquay itself was a little less successful with my first location, The Real Crime Museum, closed without explanation. It was just locked up, despite the opening times on its own website and Google Maps suggesting otherwise. Very disappointing for me and a group of three women who appeared as I was checking the opening times on my mobile. Still, a half a mile walk up the road was the Torquay Museum. The highlights of this one was the section about famous explorers (including Indiana Jones merchandise and a life size Lara Croft, to highlight the fictional legacy) and particularly the area given over to Agatha Christie. She was a local and they had a lot about her, including quite a bit of furniture, costumes and props from various TV and film adaptations of her work, most especially the David Suchet's Poirot. That closed at 16:00 giving me about an hour there. Approaching rush hour again and, as ever on these trips, I was somewhat dehydrated so went in search of a Costa hot chocolate. That and a wander around Torquay took me back towards my car but not before I grabbed some chicken and chips at the Great British Fish and Chip Shop, which I ate in my car whilst watching some YouTube videos. Then it was back to the hotel for my final night there, now having accumulated 699 miles over 18hrs13 of driving.
Saturday the 18th of September 2021 saw me check out of the rather expensive Okehampton Sourton Cross Travelodge (about £390 for the five nights) and head back east. I'd set off rather earlier than I needed (checking out around 07:49) and my ETA at the Royal Navy's Fleet Air Arm Museum was going to be at least half an hour before it opened (but at least it does open on Saturdays, unlike my failed attempt to visit on the prior Monday). As this didn't have charging on site and I needed a loo, I decided to stop off on the M5 Taunton Deane motorway services. I had no idea if they'd have Gridserve upgraded chargers yet or no CCS rapids at all but luck was on my side, doubly so as the unit was on free vend. Not the fastest of chargers but I stayed there about half an hour and had increased my battery from 43% to 71%. As I say, not the fastest but it was free and I had the time. I arrived at the Fleet Air Arm Museum at 09:55, just in time for opening and spent the best part of three hours there. I had to rush it somewhat as I wanted to get to Swindon by no later than 15:00, I could easily have spent at least another hour there, if not more. Another fascinating place, this one covering the history of aircraft in the Royal Navy, going right back to airships and the first years of powered flight. There's also a prototype Concorde that you can walk through, this must be at least my fourth Concorde as I've seen others at various museums in the UK and one in New York. I left there around 13:00 and drove the 68 miles (taking a rather long 1hr47) to get to Swindon, home to The Museum of Computing. This is somewhere I'd wanted to visit for a couple of years but most of that was prevented by the pandemic. Like Concorde, there are a few of these around the UK and I've visited the ones in Cambridge, Bletchley and Leicester, plus there's one in Ramsgate that still hasn't reopened after Covid that I want to get to some day. The Swindon one is the smallest of the computing museums that I've visited so far but they pack a lot in. It was particularly good to see (and even touch!) an Atari 400, my first computer (well, on a few months loan from my cousin many, many years ago). I can't forget that weird membrane keyboard! They also had my next computer, the first I properly owned, an Atari 800XL. Unfortunately the information they had on the card next to it was very wrong, claiming a 1979 release date (it was 1983) and 48KB of RAM (it was actually 64KB). I also had some hands on gaming time with the best of my childhood computers, an Atari ST. They had a lot on display but nothing like the magazine library of my favourite computing museum, the Retro Computer Museum in Leicester. I wasn't able to while away the hours, as I did a couple of months back or so, reading old computing magazines. As it happened I was about out of time anyway as they too close at 16:00, giving me only about an hour there. I had a quick wander around Swindon town centre for about 20 minutes, thinking about getting something to eat (it would have been the first time that day) but failed to find my desired Burger King. Instead I got back on the road, knowing that I'd need a top up and in fact quickly stopped at Moto Chieveley on the M4, arriving there 38 minutes later and with 32% battery (~93 miles range). I was there half an hour and did indeed buy my first food of the day from their Burger King. I came back to my car to eat it, sat beside a Jaguar i-Pace charging on the other rapid next to me. For some reason the charging cut out at 53% (only adding 21%). I could have restarted but there was another i-Pace waiting to charge and I had plenty (about 153 miles of range) to get me home, even with contingency. I moved my car to a regular parking spot and finished my dinner before the final 81 mile stretch (2hr01m - super slow traffic again) and home. I arrived home with 30% battery and 19:31. In total I'd driven 962.3 miles over 24hr35. That's a lot of driving but the car was perfect.
All in all a great holiday, although not without several disappointments of things being closed. There's a few places in particular that I'd like to revisit, especially with friends, such as the Babbacombe Model Village, the Fleet Air Arm Museum and Geevor Tin Mine. I am sure there is more to be uncovered down in Devon and Cornwall, too. I'm very glad that I've finally visited that part of the country, it has been a major omission for years.