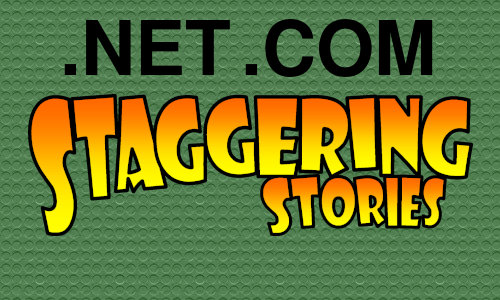 Masters of our own Domain
Published: 2020-01-31
Back in August 2001, some eighteen and a half years ago now, I registered the Internet domain name of staggeringstories.net. Of course I first tried staggeringstories.com but found it owned by cybersquatters. I cannot remember how much they wanted for it at the time but it was at least several hundred US Dollars and more recently it was up to about $3,000!
I've kept an eye on it on and off and, unsurprisingly, nobody was interested in paying them anything like that sort of money for it. Finally, a couple of days ago, they let it lapse. Thanks to that, Staggering Stories now owns staggeringstories.com and it didn't cost any more than a brand new domain name, $51.94 USD for six years if you're curious. I was very worried that another cybersquatting company would quickly and automatically register it when it became available. I knew it was about to expire some time soon (and it's pretty murky exactly how long after they expire that .com domains become generally available, to give the previous owners time to reclaim it for cases where they'd forgotten to renew) but I didn't remember to check on it until a day or two after it became free. Luckily nobody had grabbed it in the meantime.
Personally I prefer the staggeringstories.net address. We plug it several times on every podcast, both shamelessly begging for feedback and also mention it in the outro. That final 'dot net' is part of our identity and, more than that, it just seems right - we are an Internet based thing and are in no way commercial! Nonetheless it has always niggled me that anyone accidentally going to the 'dot com' version of our address would find a dead 'for sale' sign of a webpage. Well, no more. All being well the new staggeringstories.com should point to exactly the same place as the original staggeringstories.net (and that goes for the blog, the comatose forum and any emails, too).
It's taken the best part of twenty years but I am glad I never gave into the temptation to pay the extortionate fees the underhanded cybersquatters wanted. Some domain names exchange hands for literally millions of Dollars but in reality we are all just leasing them, paying the administrators of the Top Level Domain (.com, in this case) the same few Dollars a year, no matter what people are willing to pay each other for temporary 'ownership'.