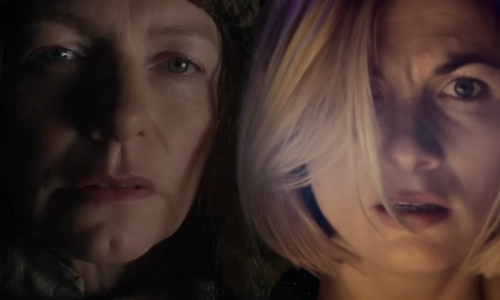 Published: 2020-03-16
It's just a television programme, we all know. Nonetheless Doctor Who is also more than that to many people. It's an escape, a modern myth, a good old-fashioned good vs. evil tale and then there's the social aspect to it. That sounds almost like a religion to me and in some ways it is to some (perhaps even myself). Some take the sacred scripts of the past as off limits - nothing must change the basic history of the programme. Thoust shall not meddle with thyne owne childhood! (And other cod nonsense!)
That brings us onto 'New Who' series 12, the 2020 season of Doctor Who. The history was changed, or at least added to, and nothing will ever be the same again. Except it will, of course, because essentially nothing important has changed from an episode to episode perspective. Apparently some people are nonetheless losing their cool over these revelations/changes/heresies. I haven't seen much in the way of push back myself but then I tend not to read anything on Twitter anymore!
Spoilers ahead for the end of Series 12 but there cannot be many people left that have any interest in Doctor Who who don't know what's happened. If that's you, perhaps leave now!
The Timeless Child was briefly hinted at as a general mystery back in 2018's Series 11. The Doctor didn't seem to know what that phrase meant and wasn't too worried about finding out more - why would you take the word of a piece of floating cloth? Well, she should have done, even if it is very unclear how these odd creatures could know anything (some deep telepathic ability into the Doctor's unconscious?) It's probably besides the point though may hint, if head-canonned in the right way, towards the Doctor knowing more than she consciously realised. That in turn may help to explain the mysteries of the Sylvester McCoy era. Before we get onto that, what I am actually talking about..?
According to the Master he discovered a dark secret to do with the creation of the Time Lords. The first great space explorer from Gallifrey, a woman named Tecteun, discovered a lone child below a great rift to another dimension or reality. This unnamed child was taken back to Gallifrey and adopted by Tecteun as her daughter. Then, one fateful day this child had a fatal accident. Instead of dying she regenerated, the first person on Gallifrey to do so. The Timeless Child was born. Eventually the polymath Tecteun was able to isolate the genetic code that allowed this regeneration (after causing her child to regenerate at least another half dozen times in the process). She spliced that into her own genes and, when that worked, also into all of the inhabitants of the Capitol on Gallifrey. A regeneration limit of twelve times was either imposed or found to exist after the copying (perhaps it can be extended via technology, that's now unclear again). These Gallifreyans went on to discover time travel and everything we already knew about Rassilon, Omega and so forth is unchanged.
Back when the Timeless Child was first mentioned it seemed like a fair bet that this was either the Doctor herself or in some way related to her. Sure enough, it was the Doctor all along. What does this mean? She's probably not actually Gallifreyan (at least by birth) and she probably has unlimited regenerations. There is now also a whole hidden lifetime before what we've up until now called the First Doctor (William Hartnell's Doctor). Matters are complicated by the fact that the Jo Martin Doctor (or Doctor Ruth as many are calling her, for want of something better) calls herself the Doctor and has a Police Box shaped TARDIS. How is that possible? Likely it is the same TARDIS and it either got stuck in that shape before Hartnell (with it being successfully, albeit temporarily, reset when it returned to Gallifrey) or the pre-Hartnell Doctor(s) just liked that shape and forced it somehow. Personally I prefer the idea of the dodgy chameleon circuit that was only briefly fixed when the TARDIS was returned to Gallifrey, when the Doctor's time with the mysterious 'Division' can to an end and her memories were erased. That TARDIS was probably considered obsolete by that point and/or too imprinted on the Doctor to be put back into general circulation. Presumably it then sat for decades or perhaps a couple of centuries in the decommissioned TARDIS scrapyard, before the Doctor stole it (perhaps drawn to it by an unconscious telepathic calling - the TARDIS did once claim to have stolen the Doctor rather than the other way around!) Was the TARDIS drawn to a scrapyard on Earth because that's where it had been for so long on Gallifrey? At the first reasonable opportunity for it to appear as a Police Box it did and perhaps sabotaged its own chameleon circuit, maybe in an attempt to reopen the Doctor's lost memories of his former life? I'd like to think so!
We don't know much about the Doctor's life between growing up with Tecteun and Hartnell's Doctor leaving Earth in 1963. The Doctor worked for the Division, with an implication that they are a dirty tricks outfit through time and space. At the end of her tenure with them had a mindwipe and a forced regeneration back to childhood, where he grew up with his classmate later known as the Master and so forth. There's a lingering plot thread about the Doctor having committed some crime, likely in the eyes of the Division given that Gatt, a Division operative, had hired the Judoon to track the Doctor down (and the Doctor was clearly on the run at the time). A faction within a faction of the Division? Infighting? Perhaps the Doctor had had enough and was trying to bring them down from within? Did she succeed in ousting the villains? Her reward was to be reset (maybe as the last act before the Division was dissolved) or was that a punishment by people who knew the truth of the Doctor's Timeless Child past and dared not attempt to kill or even imprison her? The Judoon obviously didn't get the memo that the Doctor's case was likely closed by the mindwipe/regression.
If the TARDIS survived the two time periods of the Doctor's life then it would appear that the Doctor's basic personality did the same. Jo Martin's Doctor is perhaps a little harsher than New Who Doctors tend to be but is in many ways more Doctorish than Hartnell's Doctor appeared to be initially. Perhaps that was to do with his state of mind when he left Gallifrey? I'm glad they haven't said anything much about that though perhaps there is some innate need to travel after his days with the Division and/or some inherent distrust in the Time Lords that manifested in some way? Perhaps he clashed with the High Council, some or all of whom may have known the truth that he was really a founding father/mother of their entire civilisation? Lots of interesting things to speculate about there and hopefully we'll only get more questions rather than answers, as I believe Chibnall has done here - questions in abundance. Of the Doctor's basic personality, which doesn't really change regeneration to regeneration (even the War Doctor, especially as we discover in the Big Finish plays, is basically a moral crusader for justice and the underdog, despite his low opinion of himself). Where did that come from? It's very unclear how old the Timeless Child was meant to be when first discovered. Clearly not that young of a child and we don't even know how many regenerations they may have had before. Perhaps they were mind wiped and left there as a child, not unlike the Doctor after the Division. Yes, that even brings up the possibility that the Doctor was never born but is a stable timeloop, eventually ending up as a child by the rift, living the same life over and over again. I also cannot help but feel that Chibnall was planting the seed into some people's minds that maybe the Doctor is literally the daughter of God, put into the world to do good works. The Doctor has been likened to a god before and now that she's (potentially) functionally immortal, that certainly adds to the messianic thing! I really hope they don't go down that road but leave it open so that people can decide for themselves. Could the Doctor have been put there by a Guardian or celestial power? The lone survivor of the previous universe? Is the Doctor nature or nurture? Did all of that torture at the hands of Tecteun's experiments set into motion her hatred of evil, injustice, greed, violence and everything else she stands against? Is this now a similar story to Superman, another pseudo-messianic character?
If the Doctor is some kind of force of nature, is there an equal and opposite out there? The Master is the obvious one but we've never seen him succeed at very much. Despite what we've been told, at least until the very end of Series 12, he really isn't her equal and never has been. Was there another rift (or the same one at a different time) that the anti-Doctor was born from? I don't think you can ever describe the Doctor as an Agent of Order - order doesn't have a moral dimension and actually often has a rather sinister connotation. Perhaps an Agent of Harmony? What's the opposite of that - discord? We'll have to see where future stories go with this idea but right now I rather hope they don't try to come up with a new 'equal and opposite' villain to the Timeless Child.
Back in the final couple of years or so of the original series there was famously the 'Cartmel Masterplan' to add mystery back into the character of the Doctor. We simply knew too much about the Doctor's people and homeworld and I've always felt like they appeared rather mundane, certainly ever since The Three Doctors and even more so since The Deadly Assassin. Their world and way of life should literally be beyond our imagination, incomprehensible to us. That boat had already sailed but there was room to hint that the Doctor was more than just another boring Time Lord. In Sylvester McCoy's time hints were laid that the Doctor was involved (and knew that he was involved) with the creation of Time Lord society. The idea of a triumvirate - Rassilon, Omega and 'the Other', the Doctor being that mysterious third person, of course. This was explored and, unwisely, outright explained in some of the Virgin New Adventures novels. I would suggest to any future writers who want to add extra mystery that they don't have any answers in mind when they write it or certainly never share them. Hopefully Chibnall has no idea where the Timeless Child comes from. I'm sure he has multiple ideas but he shouldn't favour any of them or be closed to alternatives and certainly never tell anyone any of them! The Other isn't directly contradicted by these new revelations of the Doctor's past but we can certainly discount aspects of it, such as the looms but otherwise it could still track. Maybe the Doctor was instrumental in the creation of Time Lord society - there were some solid suggestions in The Timeless Children that Tecteun was involved. Perhaps the Doctor and Tecteun were really responsible for the early days, with Rassilon and Omega coming along potentially millennia later (it is unclear if Tecteun had limited regenerations or what might have become of her/him - perhaps she is Rassilon?!) For me the real question is how much did the Doctor know back in McCoy's time and had she forgotten about it by Whittaker's Doctor's era? This Doctor appeared utterly shell shocked by the revelation that they predated Hartnell's incarnation but I cannot help but feel that McCoy's Doctor almost knew already. Past memories bleeding through, perhaps incorrectly and impossibly merged into the memories of the 'first' Doctor's youth on Gallifrey? Then forgotten or dismissed by later regenerations? That is one thing that I would like an explanation for. Will that be left to Big Finish?
What about Susan? Did the Doctor have a family before the mindwipe and regression to childhood? Did she have children with the man we know of as Lee in Fugitive of the Judoon? Presumably Susan is the product of a family after that, after the regression, or were there some complicated allowances made that somehow brought the Doctor's pre-wipe family along for the ride? Would Susan have to have been on ice until the Doctor reached the right age to be a grandfather? What about that middle generation? Now I'm just overcomplicating it, though it might explain how Susan coined the name TARDIS (if she really did) - I'm pretty sure Doctor Ruth knew the term...
And one last thing about the Eleventh Doctor's regeneration into Twelve - it seems likely now that he didn't need any help, he could have regenerated at any time. Clearly he didn't believe so and therefore held off, no matter how thin his body was wearing! Did the Time Lords really give extra regenerations or did they know a light show would be enough? Did the High Council know the forbidden truth of the Doctor? Maybe or maybe not. Perhaps that really was extra regeneration energy but it wasn't needed and just went straight into the extra powerful explosion and killing all of those Daleks.
I lied - the real last thing - River Song. How did she get her regenerations? The Doctor's supposition of 'from the Time Vortex' appears unlikely now, the stories he'd been told of Gallifreyans getting regeneration from the Vortex are clearly untrue. Could it have been as simple as the same way that Tecteun got her regenerations, namely from the Doctor's DNA (or whatever passes for the Doctor's genetic encoding?) I could quite believe that the Doctor is the only reliable source of that genetic code in the universe, even from other Time Lords it may be fragile and corrupted. The Silence could have grabbed his DNA from various times and places, you just need some hair or a skin cell, and engineered it into Melody. That's how I'm rationalising it anyway! Oh, and that business with the Master thinking the Doctor was 'half Human' in the TV movie, perhaps he was wrong about the species but right that the Doctor isn't entirely Gallifreyan (or not at all Gallifreyan but apparently Time Lords are all slightly Doctor!)
I am far from upset over the 'changes' that Chibnall and co have brought to the series and the backstory of the Doctor. I like that it's added more questions and mystery. Here's hoping nobody will attempt any hamfisted answers to any of this. Never answer a question on the Doctor and Gallifrey's backstory unless you have ten more to pose with it.