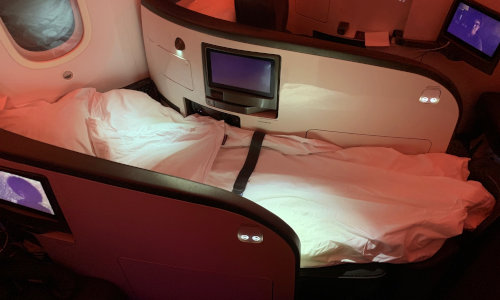 Updates, updates, updates
Published: 2019-12-06
A decision on the Los Angeles to San Francisco journey, some additional thoughts on the whole house extension idea and some news on the car situation.
The decision has been made and a ticket booked for the LA to San Fran journey. I was debating if I should take the quicker and cheaper option of a plane journey or go the whole hog and take the reputedly scenic train trip up the coast. The train was potentially half the ~$130 plane fare cost (including hold luggage) or, if I went for a 'roomette' then actually more at $201. I went expensive but scenic. It was one of those things that I would probably have regretted if I took the quicker and easier aeroplane route. I won't be lacking time sitting on a plane during the entire trip as it is in any event. Yes, this way I am stuck on a train with strangers for eleven or more hours but I will have my own room (with bed) to retreat to. I am not looking forward to the dining car experience, being on a table with up to three people I don't know and having to try to make 'small talk'. Hopefully a price worth paying overall.
Talking of paying for my own space, I have already booked my flight into LA and the return flight from San Francisco. So called 'Economy Delight', after Virgin Atlantic split their basic economy class into three - Light, Classic and Delight. On top of that is their Premium Economy and Upper Class. It's all very confusing. The others are flying Economy Light, the most inexpensive but they do have to pay £45 each way for hold luggage and cannot choose their seats until they get to the airport. Economy Classic gets you one 'free' checked baggage and you can choose your seat ahead of time. The oddly named Economy Delight gets you that plus an extra three inches (I don't know why it's not metric by now) of leg room, plus priority boarding. It cost me a bit more but mostly air miles and I've already booked my aisle row seats. Will it be worth it over Economy Classic? Time will tell.
That's all well and good but I must admit to being stupidly (and it probably is stupid) tempted to upgrade all the way to Upper Class for the way home. Unlike the flight to LA this will be overnight. I can never sleep on planes, mostly (I think) due to being sat up and generally cramped. What if I could have a bed, would that help? With Upper Class that's what you get. Well, it's more of a chair that folds totally flat but perhaps it will help? Also I would get access to the Upper Class Lounge at SFO airport and given I need to be out of the hotel by 11am and the flight isn't until 5pm, a few hours in there would certainly be more comfortable than out in the main departures cattle holding. I should even be able to get a table with power and Internet to finish off the podcast that is due out the next morning. As I say, very tempting but at just over £2,000 perhaps a wasteful use of funds?
On that subject, I am getting cold feet over the house extension idea. Of the two quotes I have so far, one was for £41,688 and the other £45,180. The lower quote doesn't include a few bits that the other does, most notably the bi-fold patio doors. Neither includes the extra expenses for additional kitchen cupboards and working tops. I expect the final cost to in reality exceed £50k. Great though it'd be to have a games room and an additional shower room, are they really worth that much to me? The lack of interest in games evenings of late doesn't help the cause. Right now these are rooms that would get little use. Would I be better spending that money on travelling and generally having fun? Okay, that won't add value to the property but that value will only be realised if (when?) I ever sell. Second thoughts are very much settling in. Given it's nearly Christmas, it's not the time to start a building project anyway, so perhaps I should let it ruminate a little.
The car conundrum continues. It has been months since I originally spoke to the Kia dealership to put down my fully refundable deposit for the new Soul EV, with it's ~280 mile all electric range. Out of nowhere I received an email from them saying that the new cars will start to arrive for customers somewhere in the April-May range. The lease on my current car ends sometime in July, so May would be better for me. Still my mind hasn't been made up on if I go for this new car or look for a second hand clone of my current car. The idea of travelling around Europe by car is certainly compelling but I'd only do that with a car that'll comfortably do over 200 miles, with contingency. Is that reason enough for the new car? If so, maybe I also need to sort out that potential Irish passport but that's a thought for another day and to see what comes of the election!