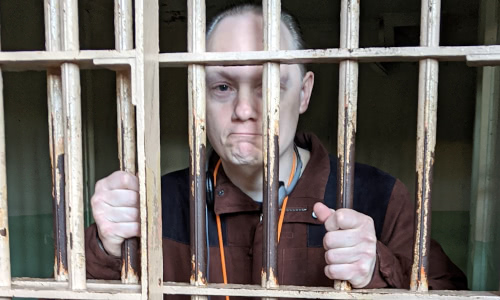 Published: 2020-04-06
What a few weeks it's been. The world feels very different right now and not in a good way (for the most part, at any rate). In the UK, as in many other countries around the world, we are in lockdown against this Covid 19 Coronavirus - the government has ordered everyone to stay at home, with the current exceptions of to go to work (where you cannot work from home and your place of work hasn't been closed down for the duration), essential shopping and for exercise. In my case I can work from home and work is continuing, so I am back to doing what I did in the last couple of years of my previous job - working in physical isolation, though with interaction with colleagues via the likes of Slack, email, Google Hangouts and so forth. The difference is that I cannot go anywhere in the evenings or weekends.
The cinema has closed and I have now cancelled my Cineworld Unlimited card. I was on the edge of doing that already but then this happened and all of the major films have been delayed until the autumn, six months away. Even though Cineworld are promising to somehow extend my membership to cover the period that their cinemas are closed, there's still little incentive to have a card over the summer now. How would that extension even work - they said they would be taking at least one more monthly payment from everyone during the lockdown - do you only get the extended time after you cancel your card? Not my concern anymore.
The supermarkets remain open, though on reduced hours. They are only letting so many people inside at a time and only one person per household (though they'd never know if you queued up separately). As with everywhere now, at least outside of the home, we have to keep at least two metres from everyone else, leading to long but generally sparsely populated queues outside of the likes of Sainsbury's and Tesco. At least most of the panic buying has now subsised - for a couple of weeks there you could not buy toilet roll! Fortunately I didn't need to, as I tend to buy the big packs every few months and was only part way through the last one.
Restaurants are closed, though a few takeaways remain open, notably a subset of the Crawley fish and chip shops. For a brief time places like McDonalds and Burger King remained open for takeaway only, apparently having roped off their seating. They've since shut down completely, for the duration. This has the sad side effect of meaning I am not being able to get a decent milkshake anywhere (Frijj aside)! Yes, Baskin-Robbins and Five Guys are also shut. As are places like WHSmith and Game. If your shop isn't selling essentials (i.e. food and toiletries) then it's closed. The same goes for any cultural venue or tourist attraction - museums, theatres, escape rooms, castles, crazy golf, so on and so on. So many people are now out of work. The economic damage will last a decade, if not more. Currently I am very fortunate in that regard.
I do have some bad fortune as a couple of days before the lockdown became mandatory (though I'd already been working from home for a week by then), on Saturday the 21st of March 2020, I picked up my new car. That was a little over three weeks ago now and, despite driving it back from Brighton (well, Pyecombe) and various shopping trips for myself and others, I still have over 60% battery charge left. At this rate I won't have to charge it for another month or more! Of course it isn't good to leave it at a high state of charge for days on end, so I have been driving it pretty hard to get that percentage down as much as I can but it's taking a lot to make it edge down at all. I still have my previous lease car sat blocking my charger. They were due to pick that up on the 25th of March but I had an email saying that they'd suspended pick ups the day before! I've cancelled my Direct Debit on that as I am not paying for a car they had already agreed to pick up. I won't be using it, though it is sitting at 100%, which will be damaging the battery. I feel sorry for the next owner. Perhaps I should somehow drain it, though I am not insured to drive it now and it's on 14,499 miles and I said it would be on no more than 14,500 when they picked it up.
I really want to take my new ~280 mile range car on a long trip to see how it performs, somewhere like Cardiff, Cambridge or someplace beginning with C. But even if I did defy the lockdown (and I'd be asking to be stopped by the police if I did), there's nothing much to do right now anyway. I still have the first week of May booked off as holiday, though haven't decided what I am going to do. We'll see if the lockdown is still in place by then. They are sure to extend it as this is the third week of three and it's clear from the reports that we are still a few weeks away from being clear (maybe more). My gut tells me they'll extend it to the end of April. If they do and if it isn't extended beyond that, then my birthday weekend may well be the first after the lockdown. We'll see. It may be phased out so even though the lockdown is over there may still be a limit on mass gatherings, such as at museums, castles, cinemas and so forth.
There have been some benefits to all of the country being stuck at home, such as the series of mass 'watch-alongs' people have been organising for programmes such as Doctor Who, Torchwood and Life on Mars. These have included, writers, producers, directors and actors providing live commentaries via Twitter or Instagram. In the most recent case, with Doctor Who: The Eleventh Hour (my favourite Doctor Who story) there were about six people all providing their own commentaries (including Moffat, Darvill, Smith and Gillan) so keeping up with all of their feeds on different web pages was quite a challenge!
Another challenge has been trying to record one of our own podcasts over the Internet. There wasn't time to really prepare, for example I could have lent Jean one of my laptops for the purpose. I did manage to drop off a Zoom recorder to Karen and Keith, although in the end that oddly created more problems! We did have various trials the week before we were due to record and did get something that seemed to work, using the website/service Ringr. That records everyone's audio locally and uploads them all to a central location for me to edit together. Unfortunately Jean's audio was in a very bad way, missing many random chunks of audio making her track significantly shorter than the others and a nightmare to patch it all together. A week tonight should be our next effort. I believe Jean has a new laptop, one which can hopefully keep up. I think we'll also try to locally record with Audacity, perhaps also using Ringr or Zencastr to record their local versions too. More experimentation this week, I feel...
Another thing to stave off the cabin fever has been a return to playing VR. In this case mostly the new (and wonderfully timed) Half-Life: Alyx. Virtual reality is still the most immersive type of gaming but I do find I can only play for a couple of hours at a time, it's oddly draining! I've also been flat-screen gaming with the newish Star Wars Jedi: Fallen Order. All good fun, as has been catching up with some Netflix now that I've resubbed (especially the Witcher) but it doesn't completely eliminate the solitary confinement aspects of this lockdown for me. That and no clear end in sight (how can there be, the government has to play it by ear) and therefore nothing concrete to look forward to, it does make it tough. I don't have a basketball about the place but a few more weeks of this and I may well start making an imaginary friend out of a cardboard cutout..!